Skirt & Dirt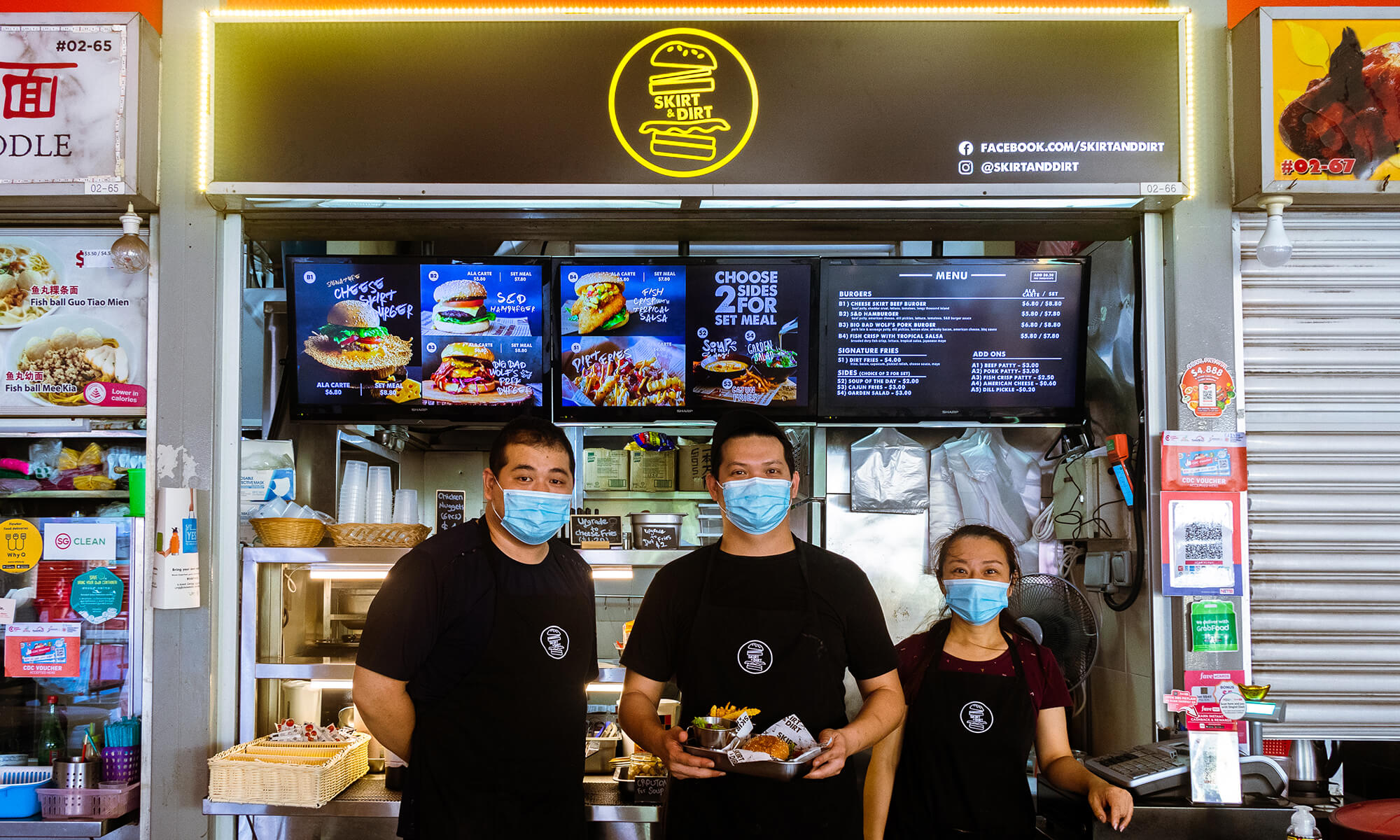 Hawkers of SG #75 – Skirt & Dirt
Skirt & Dirt opened in August last year, selling gourmet burgers in Tiong Bahru Market. My concept focuses on two key areas – constant experimentation, and presentation. In fact, this idea birthed when I was experimenting during the 15 long years as a chef at One Faber Group. Later, I decided to bring it to our hawkers.
As to why I chose to become a hawker? Well, I knew that everyone had to start somewhere, and at that point in time, hawker felt like a good place to begin with the lower start-up costs. 8 months into my hawker journey, I must say this is extremely different from my previous job. The plus point, you really get to interact with your customers, which opens a door for feedback, giving me a direction of what I can do next.
Also, I feel driven here as I am able to do what I want. Where I came from, the corporate world, if you propose changes to the menu, you need to go through many levels of approval. And at the end of the day, it will probably get rejected. It's different here. I've changed the menu 4 times in the past 8 months. From time to time, I introduce seasonal menus to keep things exciting. I love that we can be responsive, experiment and execute change rapidly.
There's interesting moments here too. I've had people coming to my stall, asking for completely unrelated dishes like roti prata, kopi siew dai and chicken rice. Perhaps my logo resembles bubble tea or something else? But definitely not chicken rice!
Guilty as charged, we make assumptions that the older aunties and uncles looking curiously at your stall, won't end up ordering. Turns out those whom I thought would never be my customers end up buying a lot from me. Anyone really, can be your customer. So never assume! Aunties and Uncles can also enjoy gourmet burgers!
If there's one dish at Skirt & Dirt I'd recommend, it's my Cheese Skirt Burger. You can't find it in Singapore, and it's a fun dish to look at! If you like cheese and grilled flavours, go for that! The patty is made from beef rump. Coupled with the saltiness from the grilled cheese, and the sweetness of the sauce, it's definitely one good burger you don't want to miss! Get them here!
Skirt & Dirt (#02-66)
Tiong Bahru Market
(Delivery available via WhyQ)