Happy Duck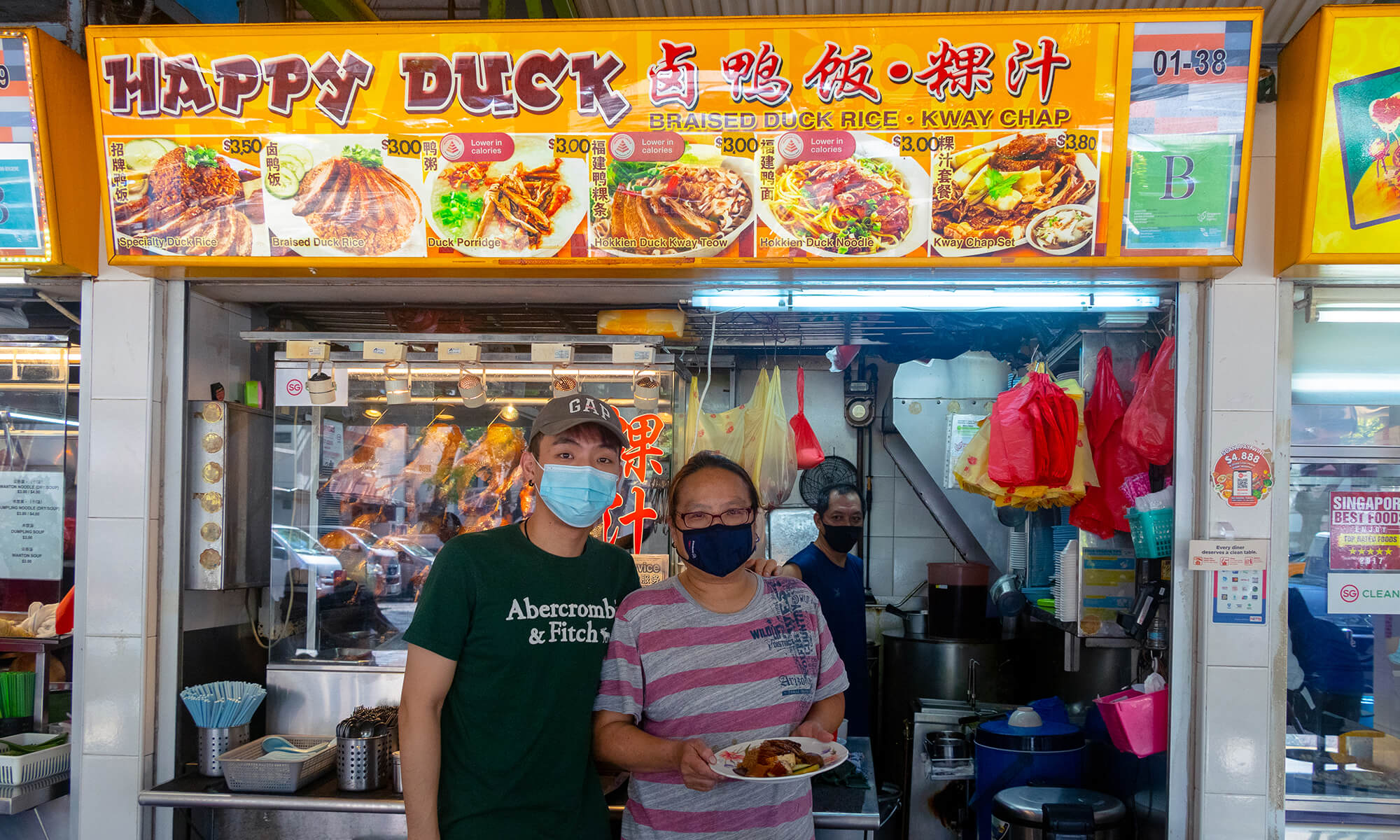 Hawkers of SG #76 – Happy Duck
Happy Duck has been here for three years, though this trade isn't new to us. Quite a long time ago, my dad sold duck meat at Katong, but chose to discontinue it. He decided to venture into this trade again as it was something he had always wanted.
Being a hawker is tiring. Waking up early, the long hours, standing the whole day, and it gets really hot. Though we open at 8.30am, we have to wake up at 5am, and reach the stall by 5.30am to braise the duck meat. Throughout the day, before we close at 8pm, we still need to do preparations. During the circuit breaker period, I came down to help daily, and really got to experience life as a hawker.
Despite the challenges, we are motivated when we see repeat customers coming back for more. This spurs us to want to improve the taste, and become better and better. In fact, we look into new ingredients or adjust the existing ingredients, in hopes to enhance the flavours.
This hawker journey has been heart-warming. The people here, be it the neighbouring hawkers, MPs or the residents are really nice and interactive. During the Covid-19 period, the MPs provided support to the hawkers and came down personally to help. Also, my mom makes the effort to remember the orders of our regulars, providing a personal touch that makes our customers want to return again and again.
I'm taking over the stall next year. This is something my parents hope for me, and something I really want for myself as well. You get to be your own boss, take charge and steer the brand. I also have plans to digitise this brand, beginning with creating an online presence.
If there's one word to describe the hawker journey so far, it would be "Marvellous". Yes, it can be tough, but seeing the satisfied faces plastered on our customers' faces, and their repeat visits – that is invigorating. To aspiring hawkers out there, just keep persevering, I'm sure you'll be able to find a way and do it!
One dish I want to recommend is our Specialty Duck Rice. Our gravy has a rich duck flavour and the braised duck is tender, succulent and juicy. Give it a try here!
Happy Duck (#01-38)
Bukit Merah View Market & Hawker Centre
(Delivery available via WhyQ)