Fortune Food Homemade Springroll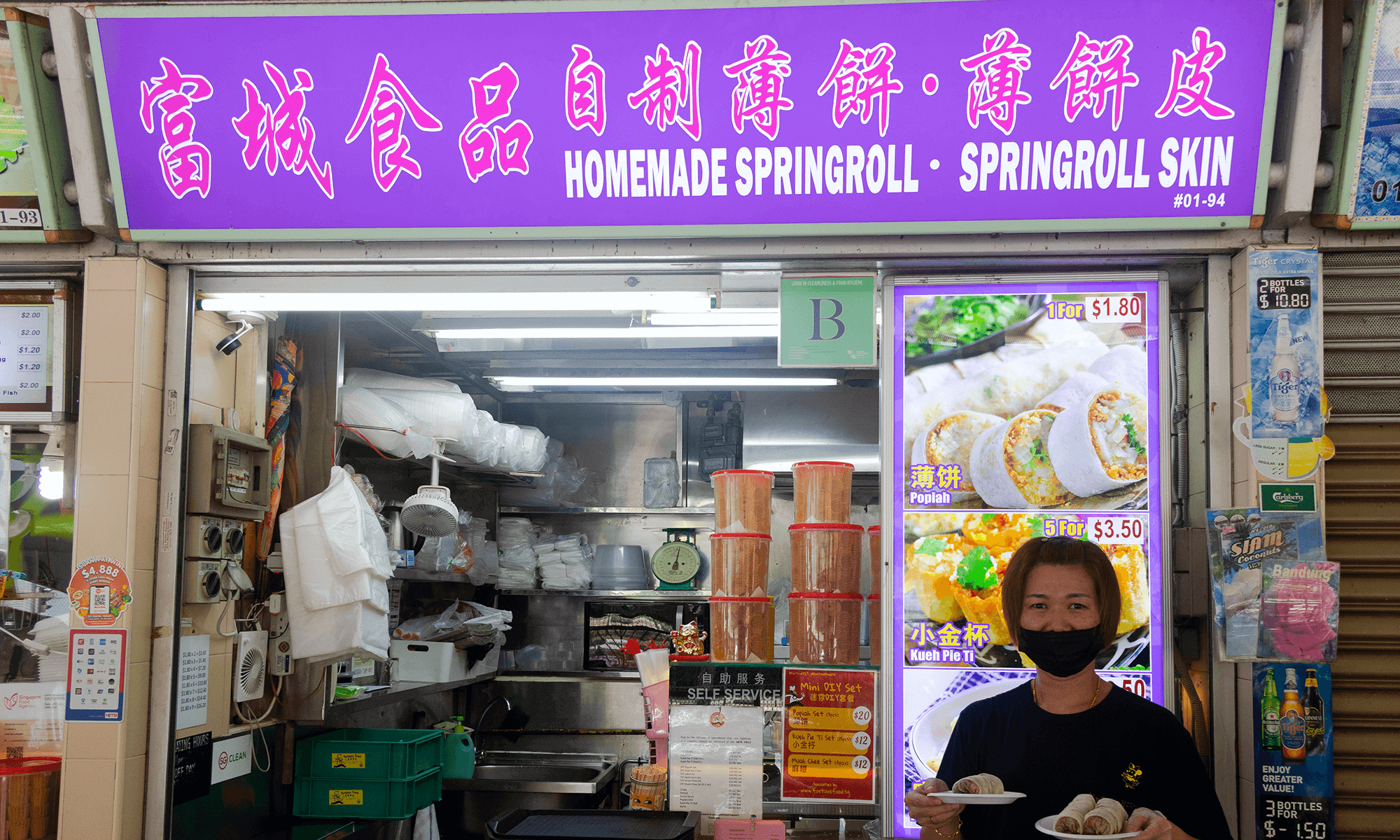 Hawkers of SG #73 – Fortune Food Homemade Springroll
I've been operating this franchise for 10 years. My family used to sell Pig Organ Soup at Geylang, but a lot of prep work was involved, and that required a lot of manpower. I recall having to help out after school and during the weekends. Eventually, having found a good supplier, we switched to selling Popiah. Doing this was much more convenient, and the stall could even be operated by a single person.
While our Popiah Stall has been around for 10 years here, I only officially took over 7 months ago. I had quit my previous job to do so. Heading the Popiah stall was a daunting challenge that was only made harder by the Covid-19 period, and our sales took a hit during the first month. Finances were tight but thankfully, things gradually improved. But when Covid-19 was at its peak, as front-liners, we were really worried about getting infected. This was a real risk as our job requires us to entertain our customers.
Also, you'd think the hawker life would be monotonous, but no. I still remember this vividly – Gunshots coming from behind the hawker. It was our first night of operations here at Old Airport Road and I heard the police firing. 10 years ago, there were a lot of gangsters in this vicinity. It's so different today. No more ruckus, just people leading their ordinary lives.
Currently, this stall is manned single-handedly by my employee. Customers always tell us that our Popiah is different from other Fortune Popiah Outlets. They always ask her, "do you use different ingredients here, the popiahs taste better here". Well, the ingredients are standardised across all Fortune outlets, but different people wrap popiah differently. Perhaps it's the way she wraps them – in terms of ratio of the different fillings and the strength used.
I recommend you to try our Popiah, as that's our signature dish. It contains the perfect ratio of ingredients, resulting in a more well-balanced Popiah. You know a Popiah is good when the skin doesn't break, and the filling doesn't crumble out loosely when sliced. Get it here!
Fortune Food Homemade Springroll (#01-94)
Old Airport Road Food Centre
(Delivery available via WhyQ)