Granny's Pancake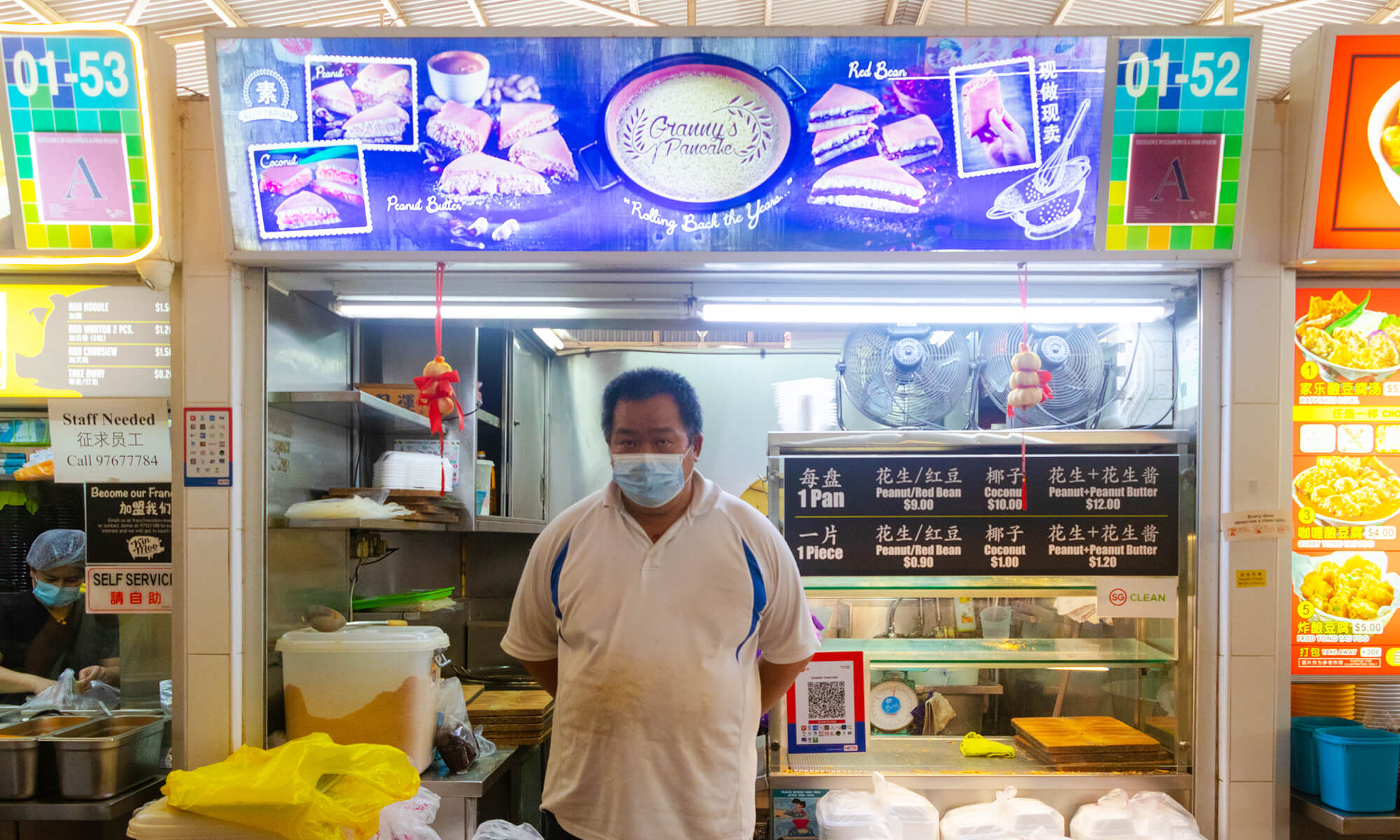 Hawkers of SG #80 – Granny's Pancake
At the age of 36, I was retrenched and decided to learn a unique trade. It happens that one of my cooks back then was selling Min Jiang Kueh, so I decided to learn from him and improvised the recipe. That's how granny's pancake started.
Everyday, I reach the stall at about 4.30am, and begin selling at 5.30am. The first three batches of pancakes are most critical as they set the stage for the day. You need to be very alert, watching out for the fire, and ensuring that the pan remains smooth. After which, it's pretty much the same; we continue to make the pancakes until we sell out, usually at around 2pm.
To do a good job as a hawker, you really need to love your job and have passion. You need that X factor to survive. Food quality alone will not suffice; it's the bond you forge with your customers. Also, you must put in a lot of love to stand out, and this means being critical of yourself too!
In fact, people always ask me this, "Aren't you afraid of the competitors around?" Well, my response is that our greatest competitor is ourselves, and everyday, we must be on our toes.
Throughout my hawker journey, one of the most interesting experiences happened last year. Because of Covid-19, where many lost their jobs, NEA introduced a scheme for veteran hawkers to pass their skills to aspiring hawkers. They called us up, telling us that about 7 people are keen to learn how to make Granny's Pancake from me. My first two apprentices are pilots! Also, we were recognised by the public, including MP of Yuhua, students and news outlets like CNA. It's really heart-warming to know that although it's only a simple dish that we are selling, it can still be recognised, showing that our efforts paid off.
If there's a pancake flavour I'd recommend, it has to be our peanut butter pancake! It's a favourite, especially amongst the youngsters. It's soft, with a spongy interior. Also, the peanut butter and coffee combination is bound to make your mornings! Get it here!
Granny's Pancake #01-52
Ghim Moh Market & Food Centre
(Delivery available via WhyQ)