63 Laksa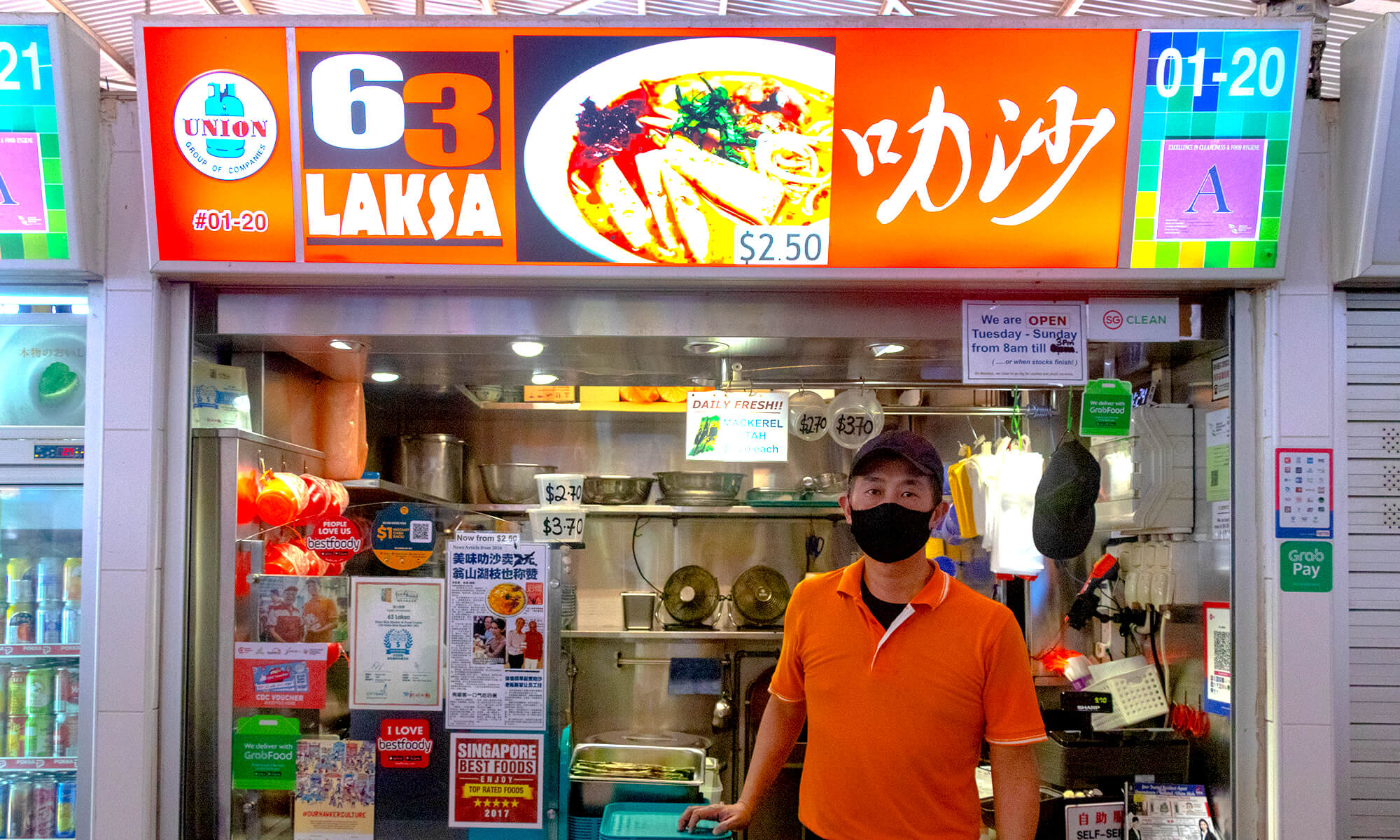 Hawkers of SG #81 – 63 Laksa
I was looking for something I could retire into, and one of the things that I know would still be around into the near future is hawker food. It's cheap and good, what's there not to like about it? Thus, in 2015, I opened 63 Laksa here at Ghim Moh.
Though my stall is relatively new, it is an age-old recipe that belonged to my grandfather. He used to sell Laksa at Jalan Besar, but it was discontinued as my father decided not to takeover. My father had a bigger dream in mind, and wanted to open a restaurant. For me, I have a smaller dream and decided to sell Laksa at our hawkers. It's easier, as you don't have to think about service staff, incur maintenance cost nor pay for dining space.
Having come from the corporate world, I'd say that I very much prefer being a hawker. For me, the corporate world is boring and highly political. The inbox, never-ending; when you leave on the weekend, you come back on Monday and it grows. The repeated meetings are like a tea break session; you can discuss but at the end of the day, there's still no direction set.
Being a hawker is not as tough as it seems. It's physically demanding, but that's about it. I no longer get my back aches from sitting in front of my PC all the time. I'm standing, 10-12 hours a day, which I never thought I could do. In the army, we do guard duty for 2 hours and we complain. Now, 12 hours is easy to me. I think I can outsource myself to army camp already!
At 63 Laksa, I reach the stall at 5.30am to do the prep work. I don't believe in overnight laksa soup. All ingredients are prepared fresh daily, except me! By 8am, my laksa would've been ready for sale.
Would I recommend this job to young people? For sure! You don't have to apply for leave, but if you don't work, you don't get income. Of course, please don't come in with the wrong mindset – that if you open this, you will be successful in 1 year and can proceed to open 20 chains. Also, if you like to lepak and enjoy aircon, this will be a horrible world for you, don't do it! Give my laksa a try here!
63 Laska (#01-20)
Ghim Moh Market & Food Centre
(Delivery available via WhyQ)