Amoy Don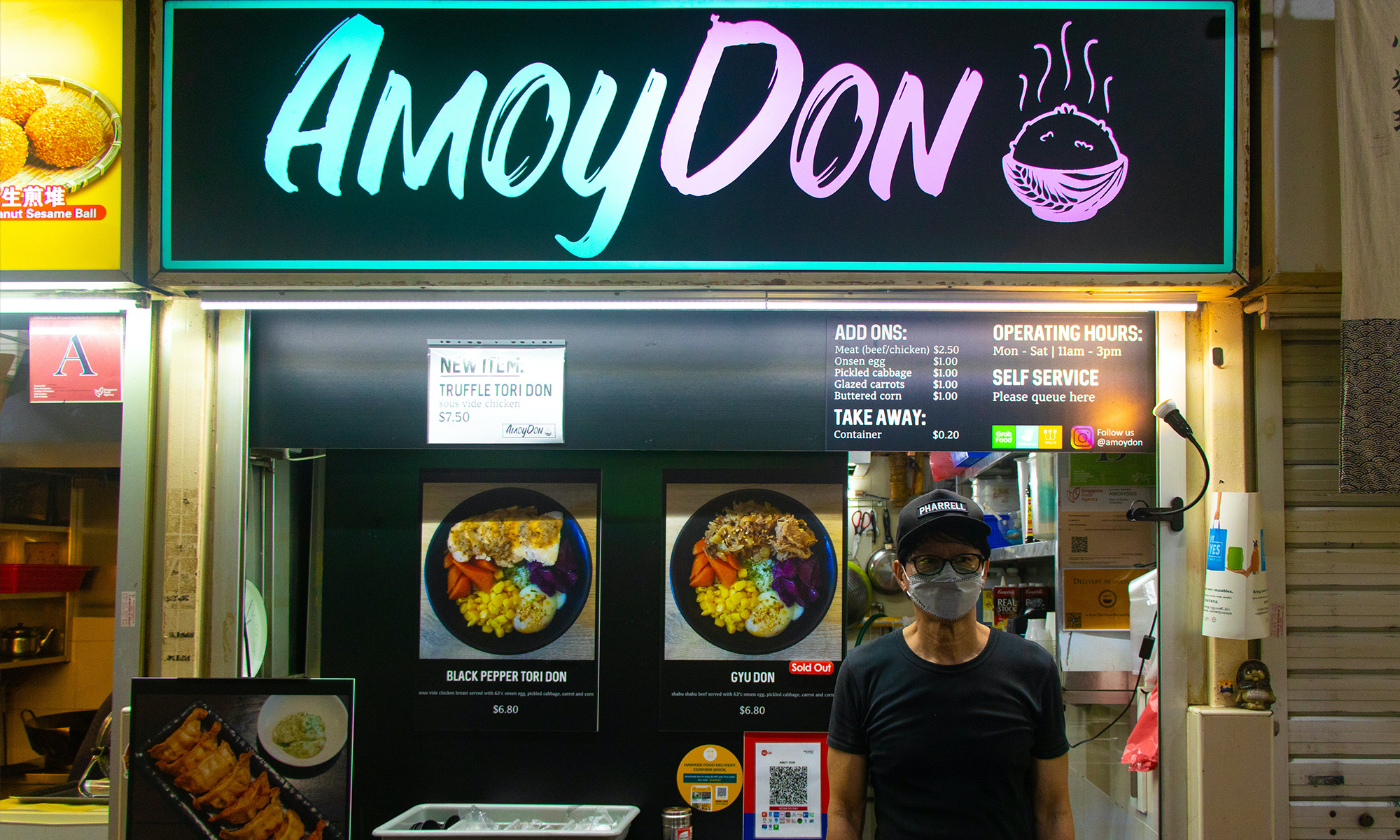 Hawkers of SG #67 – Amoy Don
My story starts with where I come from; my roots. I started out in the hairdressing industry, which seems drastically different from what we're doing here at Amoy Don, but it just shows my firm belief in training and retraining.
So in 1981 at age 27, I was already operating my own salon – "Hair'em". This salon lasted 35 years at the Singapore shopping centre, up till I retired in 2015. You may wonder, how does someone go from styling hair to serving up yummy food? Well, thanks to those decades in the hairdressing industry, I had travelled a fair bit to London, Japan and Hong Kong, where I tasted amazing local fare. Since my hobby was cooking, I was naturally inspired to cook these delicious foods for my family. After years honing my craft cooking for my loved ones, I felt the urge to enter the F&B industry.
Amoy Don opened about 2 months ago. Initially, it was a HK style restaurant-standard chicken rice but I decided to switch things up and sell rice bowls after noticing a rising trend in working class culture – regulars at the Amoy Street Food Center were gravitating towards healthier food choices.
I usually reach the stall at about 8am every morning and spend about 2 hours setting up the stall and doing some food preparation. By 11.00am, we are ready for service and that is also when the lunch crowds start to stream in. Our lunch service is from 11am-2pm and after which, I begin with the stall clean ups for the day at about 3pm. We only work till afternoon as we are only focusing on the lunch crowd service over here.
Of course, being a hawker owner has its own set of challenges. Working as a hawker is tiring and naturally, we face the challenge of attracting manpower to run the stall. Besides, the Covid situation has affected hawkers. But this also spurred me to tap on social media, and our social media accounts have been a great help in increasing our stall awareness to the public. Also, I appreciate our regulars, who have been showing their support on our social media accounts.
As a hawker, it is heart-warming when my customers compliment my food. It shows that the effort behind perfecting the dishes has paid off. Furthermore, I am truly passionate about my food and what I am doing so that is what motivates me daily whilst being on this journey.
I would recommend all to come and try my signature Gyu Don! I use only short plate beef which is tender to taste and offers a good bite. I assure you that is one good bowl of beef don. Come, place an order with WhyQ here and have a try for yourself!
Amoy Don (#01-10)
(Delivery available via WhyQ)