Top 5 hawker eats you can get on WhyQ Picks Islandwide Delivery!
Ever experienced a moment whereby you wanted to order a hawker favourite outside of your delivery radius? Well, with our newly launched WhyQ Picks Islandwide Delivery platform, you sure are able to do so now! Enjoy on-demand, islandwide delivery for your favourite/famed hawker eats all around Singapore! No more sticking to ordering food limited to your delivery radius or having to order your food only during meal times! On top of that, enter promo code <FDPICKS> upon checkout to enjoy FREE DELIVERY for orders above $35! Keen to find out more about some of the more popular stalls we have onboard WhyQ Picks Islandwide Delivery? Then, read on!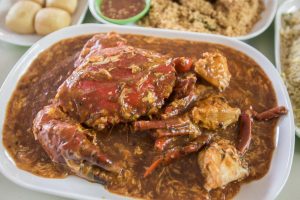 1.Alliance Seafood:
Located in Newton Food Center, a hawker center that is famed for its seafood menu offerings and night crowds, Alliance Seafood is one of the top stall recommendations  we have for all seafood lovers out there! Alliance Seafood carries a plethora of seafood dishes on their menu and we are certain that you can definitely find something you like on their menu. Chilli Black Pepper crab and cereal prawns are a given. Over at Alliance Seafood, they also offer customers the all-time favourite BBQ Stingray too! Now imagine enjoying the seafood, alongside the gravy of your choice, having that seafood soak up all that gravy with piping hot and crispy mantous (fried buns) served on the side. Are you salivating at that thought too? If you aren't too big of an eater or looking for just a single person portion, it may delight to know that Alliance Seafood serves up rice and hor fun sets topped with the seafood they're offering too! Need a side dish to spruce up your dinner? Then, go on and place and order for their shrimp omelette, Lala or seafood soup! Keen to try out the food from Alliance Seafood? Well then hop on over HERE to place your orders!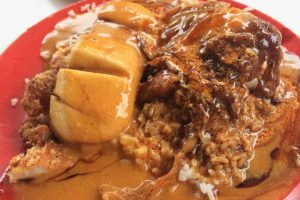 2.Hainanese curry rice:
Heads up to curry rice lovers living near the downtown area! Hainanese curry rice located in Maxwell Food Center is stall one that is not to be missed. Curry rice is known for having the messiest plating in the hawker food scene but that messy plate of food sure is compensated by the taste it offers!The most important feature of a good curry rice lies in the curry and Hainanese Curry Rice does it exceedingly well — striking a perfect middle ground between a thick viscous curry (which most stalls have), and a light watery one. They may not be known for providing curry that brings across that spicy kick. However, their curry is known to be fragrant and have a lingering aromatic taste, making the dining experience a comforting and satisfying one.The vendors over at Hainanese Curry Rice are known to be really generous with their curry gravy toppings too. We'd recommend that you go for their pork chop rice set option- Crispy on the outside, tender chunks of meat on the inside. It is definitely everything you could ask for in a good pork chop! Now pair that with rice and curry to enjoy a truly hearty meal. Place your curry rice orders HERE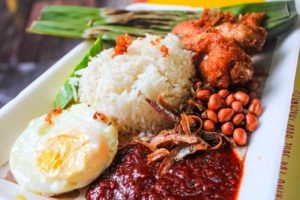 3.Boon Lay Power Nasi Lemak:
Moving on to the famed Nasi Lemak stall located in Boon Lay place market and food village!This stall shouldn't require much introduction, especially for foodies living in the west. One of the key aspects to ensuring a good plate of Nasi Lemak is prepared is the freshness of the ingredients and when it comes to that, Boon Lay Power Nasi Lemak definitely has that aspect covered. The rice from the stall is known to lean more to the moist side and  is doused with a mild coconut taste. chicken wing is said to be crisp on the outside and tender on the inside. When it comes to Nasi Lemak, sambal chilli plays a pivotal role in bringing out the entire flavour of the dish. The sambal chilli from this stall is known to be excellent, offering a perfect balance of that tinge of sweetness and yet packing a punch at the same time. If you would prefer a protein choice other than chicken, you can opt for the fish nasi lemak set which comes with 2 slices of well seasoned yellowstripe scad fish , egg and is topped off with a generous serving of crunchy ikan bilis. Keen to try a plate of this delicious nasi lemak? Then, head over HERE to place your orders with us!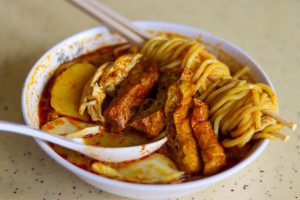 4.Hock Hai Curry Chicken Noodle:
Located in Bedok Interchange Hawker Center, Hock Hai Curry Chicken Noodle is the go to stall for  Easties when it comes to having their curry noodle craving fixed. Hock Hai (Hong Lim) Curry Chicken Noodle is one stall that has made headlines in the hawker food scene. They've even received a Michelin Bib award as well! Every bowl of noodles from that stall is laden with a generous serving of ingredients — large, juicy and tender chicken chunks; taupok strips bursting with fragrant curry sauce when chewed; and a slice of melt-in-your-mouth potato. Over at Hock Hai, they're known for that delicious curry gravy that is both aromatic and rich with all that coconut milk flavour yet not being too heavy on the palette. With regards to noodle choice,  you get to select from that of yellow noodles, thick white bee hoon and vermicelli and rest assured, all of them make a perfect blend with the gravy and ingredients! All in all, Hock Hai Curry Chicken Noodle has done this simple, homely dish right in every way possible. Do give them a try by placing an order with us HERE!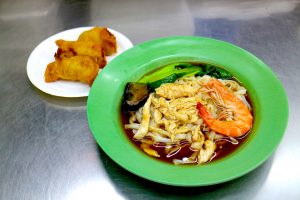 5.Ah Liang Ipoh Hor Fun:
Hor Fun lovers out there, you most likely would've heard of Ah Liang Ipoh Hor Fun. Located in Market Street Interim Hawker Centre, this is easily one of the hawker center's most popular stalls. The stall is known to sport snaking queues especially during lunch hours. This Ipoh Hor Fun is not quite like the usual hor fun you come across in most Singapore food centers. The piping serving of hor fun you get from this stall is prepared with a special dark sauce that is unique to the stall owner. Imagine, slippery smooth rice noodles immersed in a special dark sauce topped with the protein of choice. The stall offers a wide variety of options you choose from from that of shredded chicken, crab meat and even fried fish dumpling hor fun! The Fried fish dumpling is their specialty and a hot favourite among the regulars so we'd recommend you give that a try! The fish dumplings are served hot and crispy stuffed with shredded fish meat filling, offering a decadent bite and definitely worth the calories! If you'd like to savour a bowl of this yummy goodness, then, place an order with us HERE! We'll have your piping serving of hor fun delivered to you, wherever and whenever you'd like with WhyQ Picks Islandwide Delivery!