Top 5 Halal Eats on WhyQ!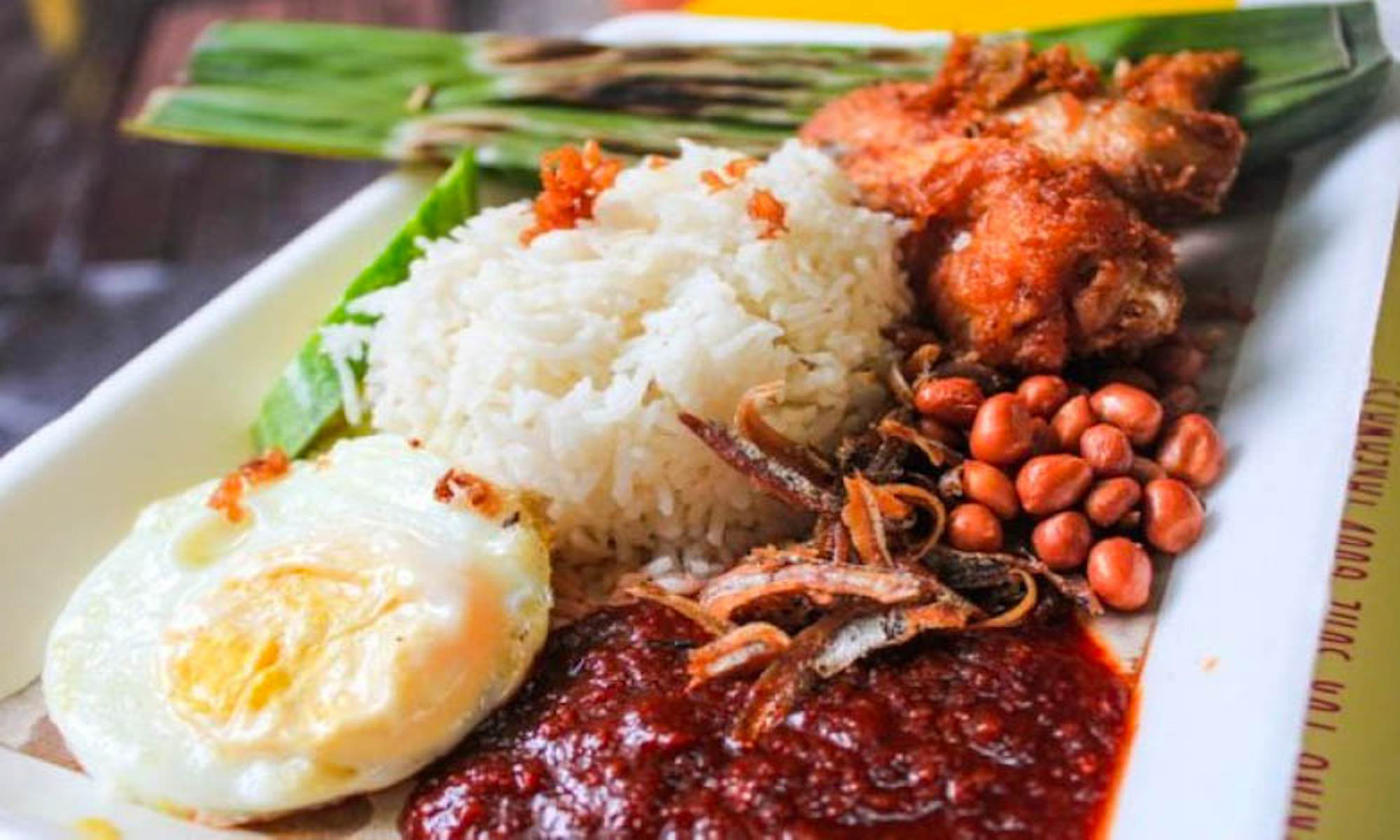 Hawker eats in Singapore are generally known to be laden with lard to bring out the distinct flavour of the dishes. While that may be true, on WhyQ, we definitively also have some  hawker eats do not contain a trace of lard and are still equally tasty as well. Perfect for our muslim diners! Today, we are going to explore 5 of such halal hawker options we have here on WhyQ!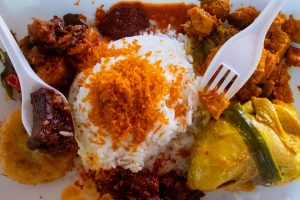 1.D'Johara:
When it comes to muslim food, Nasi Padang is not one to be excluded and for those Nasi Padang fans out there, you have got to check out D'Johara at Maxwell Food Center! D'Johara is currently helmed by Mak Cik Diyana and her husband. Over at D'johara, the stall owners swear by their Nasi Ambeng, essentially another term for Nasi Padang. Now think, freshly steamed rice topped with a generous serving of chicken floss aside a dish of curried chicken, beef rendang and seasoned beancurd with long beans. The curry chicken is packed with a punch of aromatic spices and offer a tender bite, while the beef rendang is doused in a generous serving of spiced gravy and offer a good bite. If you are lucky, you might even get a side of Begedil (or in other words, fried potato patty) to try!
Have this delicious plate of Nasi Ambeng delivered to you HERE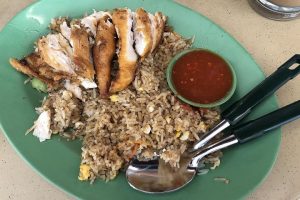 2.Aspirasi Chicken Rice
We are moving on to an all too familiar local dish in the hawker scene now- yes, its chicken rice I'm referring to!  Aspirasi chicken rice has been in the local hawker scene for over a decade now. Over at Aspirasi, you get to select from a variety of different ways you can enjoy your chicken rice! Not only do they serve up the regular poached/roasted chicken with rice, Aspirasi also serves up the Ayam Penyet, Sambal Chicken rice and offer a refreshing twist of flavour with the the sweet &sour and lemon chicken rice sets! Aspirasi Chicken rice is well known for their Ayam Penyet, with chicken that is known to be seasoned and fried to a tee, ensuring a crispy surface yet having the meat encased within remain flavourful and tender. Now, top that off with the fragrant rice and home made sambal chilli (We heard its known to pack a punch!) and you'll be literally be in chicken rice heaven!
Have a steaming serving of Aspirasi's Chicken Rice delivered to you HERE
3.Yusoff Mee Mutton Soup Briyani
When it comes to muslim hawker eats, we surely cannot leave out mutton soup, can we? Yusoff Mee Mutton Soup Briyani from Bukit Merah View Market & Hawker Center certainly has you covered when it comes to mutton soup. Imagine a soup with a smooth, yet thick consistency and laden with just the right amount of oil. It is then topped with tender mutton slices and completed, with coriander and fried shallot toppings. This is what you get when it comes to mutton soup served up at Yusoff Mee Mutton Soup & Briyani. And yes, you might have guessed from the name of the stall that they serve chicken and mutton briyani sets and mee goreng. So, you can top your delicious mutton soup off with a side of flavourful briyani or tangy tasting mee goreng, further enhancing your muslim hawker eat experience!
Have a bowl of piping hot mutton soup delivered to you HERE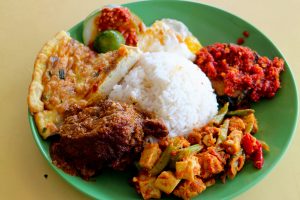 4.Rahmah Kitchen
Nasi Lemak, Lontong and Mee Siams are famed muslim hawker eats that surely have to be included in this list as well! When it comes to these food, we recommend you check out Rahmah Kitchen at Zion Riverside Food Center! Nestled in the heart of the  River Valley area, Rahmah Kitchen serves up authentic nasi lemak laden with just the right amount of coconut milk. The rice is known to exude the fragrance while the home-made sambal chilli is known to offer a kick! If you are craving some curry laden dishes, why not check out their lontong. Steamed,fragrant rice compressed and soaked in a rich vegetable curry stew, that's sure not to disappoint when it comes to flavour. Of course, if you prefer to have a vermicelli based dish instead, do give their mee siam a try! Picture, this, spicy rice vermicelli immersed in a generous serving of sweet and sour gravy, truly music to your tastebuds!
Have Rahmah Kitchen's mouth watering delights delivered to you HERE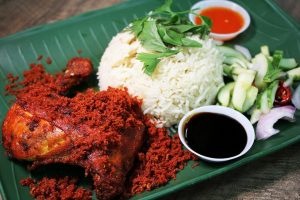 5.Golden Nur Nasi Briyani
Golden Nur Nasi Briyani, a relatively well known stall nestled in Market Street Interim Hawker Center, is a known to be a CBD favourite. As the stall name suggests, Golden Nur serves up delicious nasi briyani sets. Flavourful and aromatic gravy doused on fluffy, well seasoned rice with your meat of choice (chicken, mutton or fish). The stall is particularly known for their chicken briyani that features chicken fried to a tee, offering the crispy crunch on the surface and the juicy tenderness underneath. Over at Golden Nur, they serve up pratas too! Crisp on the outside and pillowy soft on the inside, now, you know where to head to if you are craving for some good prata!
Have the delectable eats from Golden Nur Nasi Briyani delivered to you HERE