Three Popular Stalls on WhyQ
As Singaporeans, we are constantly on a look out for good food at affordable prices. To avoid being accused of "bojio-ing", we at WhyQ have curated three popular hawker eats that are sure to meet your cravings without too much damage to your wallet.
To sweeten the deal, WhyQ has recently collaborated with CardsPal, a personalisable deals discovery app that helps you to find credit card and lifestyle deals near you. Discover over 5000 deals on CardsPal, which also includes the most up-to-date WhyQ promo codes!
1. Yu Kee Duck Rice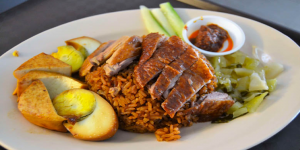 Yu Kee (友記) has been serving Teochew-style braised duck rice since 1961. You'll be delighted to find out that Yu Kee serves their flavourful and tender braised duck meat on a bed of savory yam rice – a classic pairing that has withstood the test of time. Right before serving, the dish is lightly splashed with thickened brown sauce that gives each mouthful a subtle herbal flavour and comfortable texture. All this is already enough to make the average Singaporean wet (their mouths) but what really places Yu Kee a cut above the rest is their specialty chilli. This reddish brown paste is concocted with spices and ikan bilis, thus granting it a complex flavour profile that teases the tongue with gentle heat while framing the duck rice with added umami.
(Our Tampines Hub Hawker Center, 01-37)
Get your Braised Duck Rice here: https://tinyurl.com/yukeeduck1
2. Ah Tai Hainanese Chicken Rice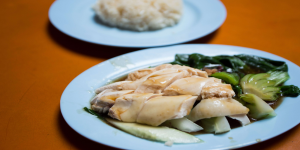 Ah Tai Hainanese Chicken Rice is helmed by Wong Liang Tai, a former chef of the famed Tian Tian Hainanese Chicken Rice, who boasts over two decades' worth of culinary experience. This has culminated in a delectable plate of chicken rice – fluffy, flavour-packed rice crowned with succulent chicken, with skin so flawless that your girlfriend would be totally jealous. Superstars come with bodyguards and Ah Tai's chicken rice is no exception, every plate is also accompanied by their "sidekicks" of tangy chilli and fragrant black sauce.
(Maxwell Food Centre, 01-07)
Get your Steamed Chicken Rice here: https://tinyurl.com/ahtai2
3. Sungei Road Trishaw Laksa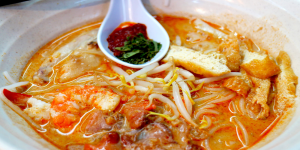 Sungei Road Trishaw Laksa is a 4-time winner of the Michelin's Bib Gourmand Award. The accolades are absolutely deserved as these guys serve up a playfully inventive take on laksa that is so good that you'll wonder why their version isn't more common around our sunny island. While most laksa dishes let the coconut milk take centre-stage, Sungei Road Trishaw redefines "laksa" by highlighting the seafood tones instead. Their version derives most of its intensity from seafood – an assortment of dried shrimp, scallop and oysters – and coconut milk is added only sparingly so as to avoid masking the delightful flavours of the sea. The result is a laksa with a lighter body yet equally rich flavours, allowing diners to enjoy the meal without getting too "jelak".
(Hong Lim Food Centre, 02-66)
Get your Asian Delight Laksa here: https://tinyurl.com/sungeilaksa1
After reading about all those tasty dishes, your tummy must be tingling right now. Fortunately, CardsPal will allow you to satisfy those cravings without straining your wallet. Explore ongoing card promos and start saving today! The CardsPal mobile app is available on App Store or Google Play Store, download now and you'll never miss out on the latest deals.