The Thunder Tea Story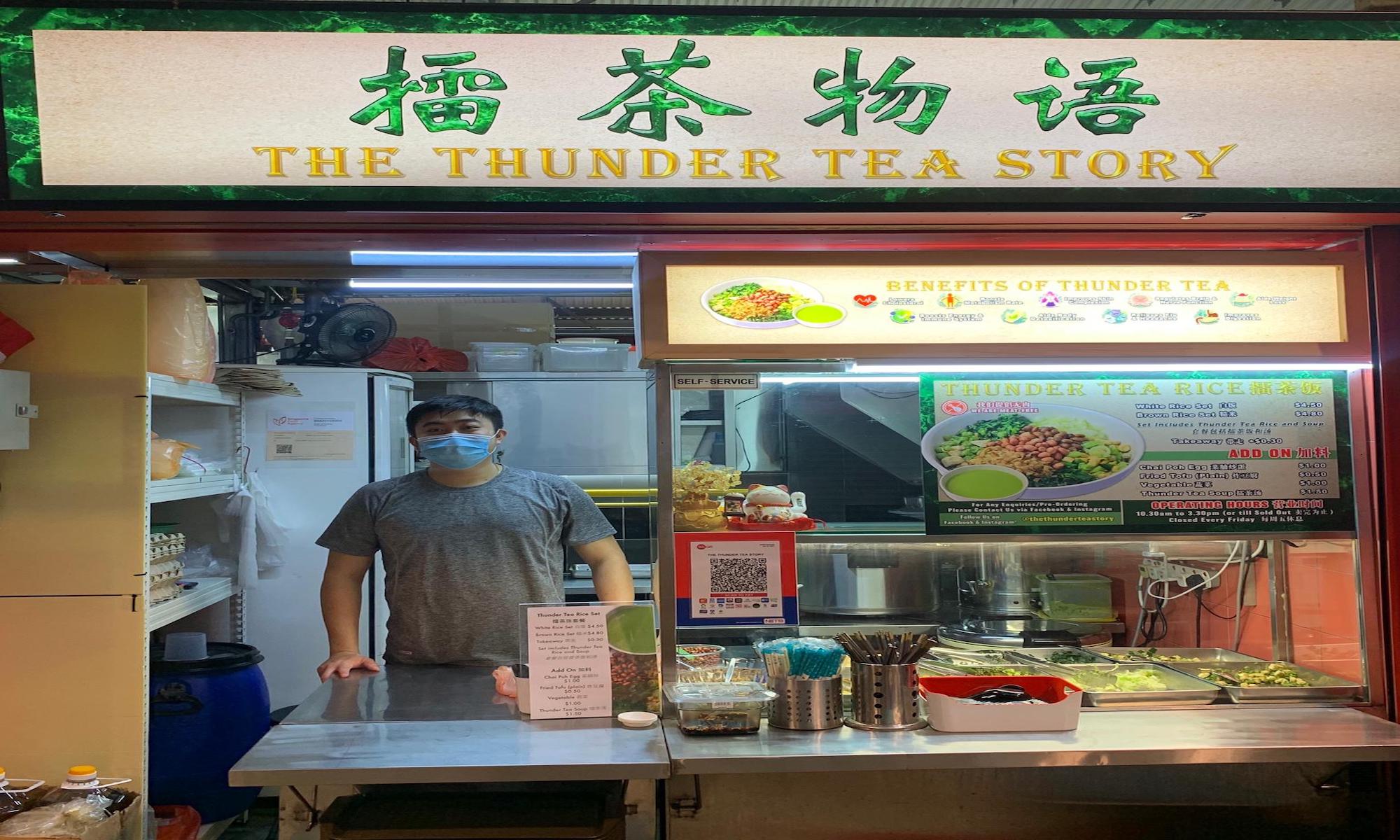 Hawkers of SG #60
My journey as a hawker started a few years back when I decided to carve a career path for myself. I decided to begin my journey in F&B as a hawker as my parents were hawkers all along before they retired. I decided to sell Thunder Tea rice because few years back, Thunder Tea was a niche cuisine to be found in the hawker centers .It only  became more common later on. Furthermore,  I had Hakka background from my mother, who basically taught me everything I need to know about Thunder Tea Rice. With that said, I thus decided to start off my journey as a hawker, preparing Thunder Tea Rice.
Being in the line of F&B business surely is not a walk in the park. However, I personally feel that it all boils down to having the right "Discipline". The discipline to wake up every morning earlier than normal office workers. The discipline to maintain your quality of food even on bad days. The discipline to handle your finance as hawkers are normally "cash-heavy "and finally, the discipline to push yourself through abnormal working hours and days, be it rain or shine.
Every morning, I wake up at 6am, proceed to the wet market to procure all the fresh produce. Then I would have to reach my stall latest by 8am to process the vegetables and prepare for the opening at 10.30am.We are opened from 10.30am onwards till 3.30pm and given that customers do not come in every minute, we will seize every  bit of free time we have in between to  prepare for as much as we can for the next day. After 3.30pm, we will start to clean and pack up the stall and also finish whatever work that has to be done for the next day. This will normally take us 2 hours or more. Lastly, on days where we have to make of Thunder Tea paste, I would have to continue working till almost 10pm, which happens 2 to 3 times per week.
One of my fondest  memory as a hawker would have to be my last venture I had in Beauty World. I had a Caucasian customer who patronized us since day 1 till our last day there. He always brought along  his two young boys as they loved our food too. We often gave them small treats, and day by day, the boys who have just learnt how to talk, said thank you when we offered them treats. It was memorable as his wife was pregnant during that period and we often took care of his wife till his third son was born. It almost felt like I was part of their family. On our last day in Beauty World, the wife baked us a cake to thank and appreciate the family-like warmth they had experienced from a mere hawker.
You may call me pragmatic but what keeps me motivated in my hawker journey is earning my keep for my daily expenses However money aside, the satisfaction, good reviews received and the recognition from customers who even travel across Singapore to have a bowl of my Thunder Tea Rice, makes it all worth the sweat and the fatigue.
I would definitely recommend my Thunder Tea Rice set for all to try! It  comes with the choice of white or brown Rice. For people who loves a bowl filled with 8 different variety of flavourful vegetables and condiments, this is the perfect rice bowl which makes healthy eating no longer a distasteful affair. More importantly, it is definitely value for money, rest assured!
The Thunder Tea Story (01-55)
Alexandra Village Food Village
(Delivery available via WhyQ)
Place your orders HERE