Rice Bowl Boys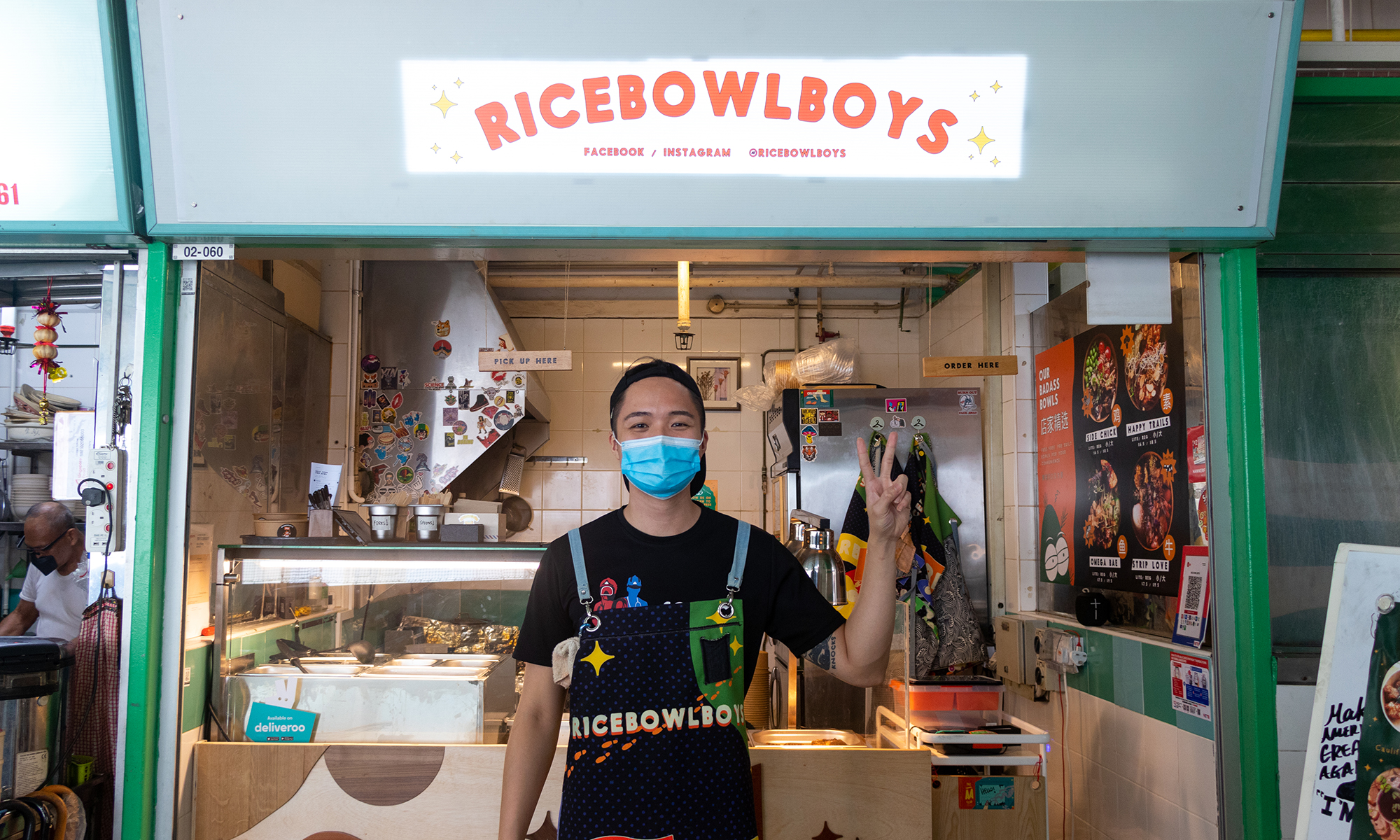 Hawkers of SG #68 – Rice Bowl Boys
Rice bowl boys started as a side hustle during circuit breaker. We noticed that there was a glaring lack of tasty, affordable and healthy food in the market. So the four of us took the leap and started experimenting with packing flavours into healthy ingredients. Once we came up with a solid product, we started selling through delivery when everyone was on lockdown. When we received tons of positive feedback, we realised that this could be more than just a side project. With that in mind, Rice bowl boys transformed into an actual hawker stall about two months ago. The concept? Healthy and Shiok!
Our day starts at 10am and we spend an hour preparing for the day. We don't really take breaks. Though we close our shutters from 2pm to 5pm, we are preparing and fulfilling our online orders. The preparation for our food is intensive as it can take a few days to get the flavours out, and this is crucial for yummy rice bowls.
Much as taking on this endeavour has been a fulfilling experience, it has its challenges. Everyday that we come to work is filled with uncertainty. We never know if the stall is going to continue to survive. Our growth is also limited by the low receptivity of the older generation to try unfamiliar food concepts. Food like grain bowls is completely alien to them! And it's made worse that my brother and I aren't fluent in Chinese, so we cannot even address this problem by building rapport.
But ultimately it's important to know why we are doing this. And this, to us, is about breaking apart from the average joe. We grew tired of following a set of rules previous companies had instilled into us. We wanted to take charge of things, and let our creativity flow. It's like a canvas, you paint and do what you want to do- throw in a little bit of red, a little bit of pink, it's up to you.
One dish you need to try is the "side chick". It consists of rice pilaf, marinated chicken, pickled cherry tomato, brown sugar shimeji mushroom and salted edamame. You'll experience a mix of savouriness, sourness, saltiness and sweetness which completes your palette. It is also topped off with red veined sorrel, an edible plant, for that bit of tang! Place your orders here!
Rice Bowl Boys (#02-060)
Chinatown Complex Food Centre
(Delivery available via WhyQ)