Phati & Jane Thai Food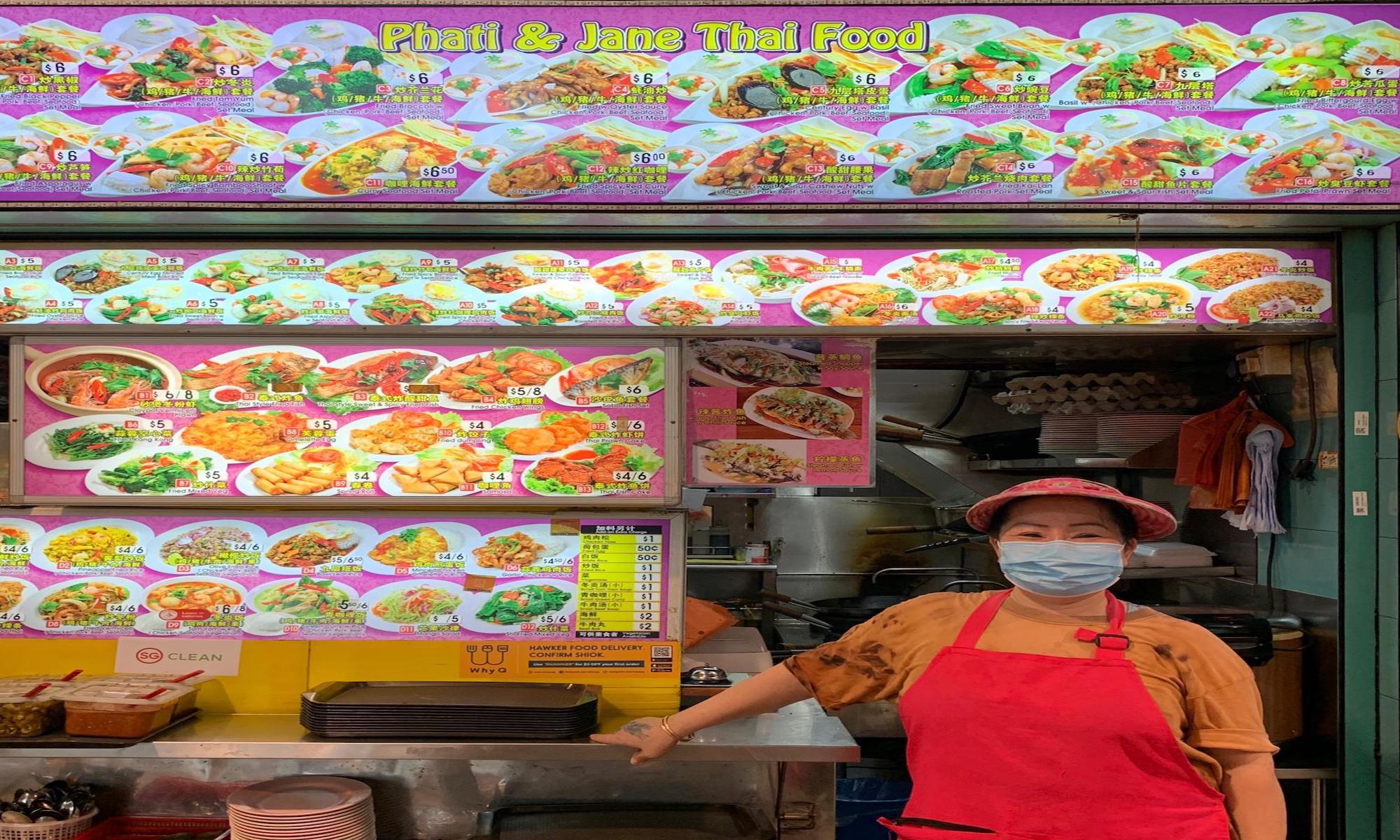 Hawkers of SG #62
The stall was started about 10 years ago and the idea of it was to start a humble business of what we enjoy doing which is cooking and sharing it with others, hoping they will come to enjoy our cooking as well. They say you've never worked a day in your life if you love what you do.
It is true that being a F&B stall owner is not a walk in the park but we find that hard work pays off for example, when we push through the lunch/dinner crowd and a customer compliments us on the food it really brightens up our day and give us the energy to serve more customers. Some challenges that I foresee is during this pandemic, customers are not as willing to come outside to dine and would rather at eat home but with WhyQ customers can still order from us and show their support. In addition, there will always be new competitors but as long as people enjoy our food they will come back so there's not too much to worry about.
Our day to day routine would start in the morning about 10AM, my partner and I will come in and split the tasks on getting all the prepping done like cooking the rice, stocking up the sauces, washing and chopping up ingredients then making sure all the necessities are ready for use.  After the lunch crowd, we'd do the second round of almost identical prepping for the dinner crowd, after which we would do a clean up of the floors and tools used. We try our best to do things to the best efficiency  so that we are able to sit down for a short break to have our lunch to fuel up on energy for the dinner crowd. Finally, after the dinner crowd – depending on how busy we are with customers, we usually start preparing to close at around 840PM with the keeping of the ingredients and at the same time check what is running short so that we can place orders for fresh ingredients the next day. We also make sure everything used for the day is washed and clean. At the end of the day
Our days in the hawker are usually  mundane and there isn't much that is interesting worth mentioning about but one of the most memorable encounter during my journey as a hawker stall owner is this one time prior the pandemic, Customer A had scolded me for having a face mask on saying I am not allowed to work if I'm sick however, we wear the face masks as a protective layer against the smoke from cooking/defense in case of oil splatter and luckily enough, Customer B had defended us by saying it is not very polite of a thing to do. I am very thankful for kind customers and I was very touched by Customer B for standing up for us, it is a very kind thing to do instinctively and I remember it till this day even after two years.
We always find the motivation to strive and work hard by thinking about our family and what we are working hard towards in trying to reach our goal. The support from our regulars motivates us a lot as well. Especially during this pandemic, we are grateful to be an essential business so we are not as affected. We find motivation in knowing that despite the situation –customers put their trust in us and continue to dine with us.
A dish I would always recommend customers when asked is our Thai Basil Leaf Rice as it is an all-time favorite amongst many and it has a distinguishing rich flavor of basil that is imported all the way from Thailand so they can enjoy the authentic experience of Thai food. Our flavourful seafood Hor fun is one not to be missed as well!
Phati & Jane Thai Food (01-21)
Alexandra Village Food Center
(Delivery available via WhyQ)
Place your orders HERE