DABURU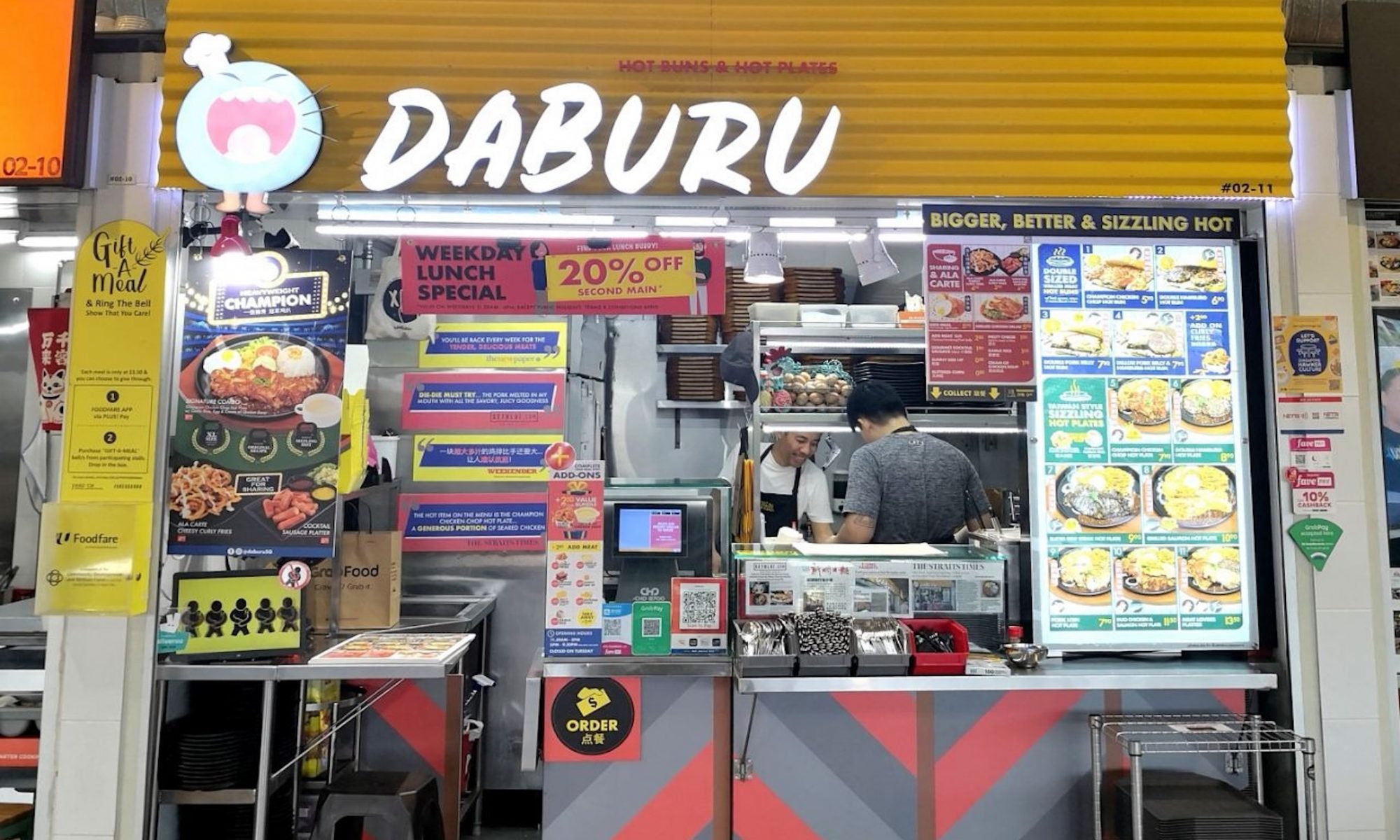 Hawkers of SG #61
'DABURU' sells mouthwatering western food with a playful twist and it was started around 3 years ago by my business partner and myself. Both of us were previously working in the corporate world and we both share a love for cooking and were quite interested in starting our own business. Armed with big appetites and an avid entrepreneurial spirit, we ventured into the hawker trade together. We were researching this field quite a bit and came across a news article regarding a new concept hawker centre which was opening soon. We pitched our concept to the management and they liked it so we got selected. We needed to pick up the ropes for cooking related things so we sought the help of my uncle who was previously a hotel chef from Hong Kong, he trained us on important cooking techniques and kitchen processes. We then conceptualized the menu through extensive market research and experimented with food we both love. Our stall name 'DABURU' or 'Double' in Japanese was our idea of a playful name for our brand.
Before we started working as a hawker, we mentally prepped ourselves as we knew how demanding the job was going to be. No amount of mental prep was enough for the real deal when we went in full steam, it was really exhausting and in the first few weeks of opening we only had on average 4-5 hours of sleep every day. We never thought of quitting as this stall is very precious to us and now our operations are already smooth and we have a steady flow of regulars so we are very happy!
We usually get to the stall at around 09:00am to do kitchen prep for things like cutting and marinating our meats. We do not have the scale of bigger chain restaurants so we pride ourselves with doing things with a more hands on approach. We open the stall at 11:30am and operate till around 08:00pm. By the time we finish washing up and all, it's around 10:00pm. On our off days, we will usually do our accounts and make future plans for the stall. Currently we are running an islandwide delivery service in view of the COVID situation.
Our source of motivation would definitely be our regulars, there are some regulars who often come and chat with us and even buy us drinks. We are very appreciative of that! Furthermore, doing it with a partner definitely helps compared to someone who does it alone. We can bounce ideas and point out areas to improve. On a personal note, I also enjoy the autonomy of running our own business. We get to make our own decisions, run our own show and reap the rewards directly. We can see the actual returns of our hardwork and that acts as a small empowerment for us.
I would definitely recommend our chicken chop to others, our customers love it! They would tell us the portion is huge and they like how we sear the skin until it's really crispy. I would also recommend our double pork belly bun which features tender pork belly cooked sous vide for a painstaking 24 hours, sandwiched between two buttery buns and topped with caramelized onions & homemade mayonnaise. We have some diehard fans for this!
We are relished with our hawker experience thus far and hope that more people from the younger generations can get on board to inject zest into our local hawker scene.
DABURU
#02-11, Pasir Ris Central Hawker Centre
(Delivery available via WhyQ)
Place your orders HERE