Chop Chop Biryani & Meats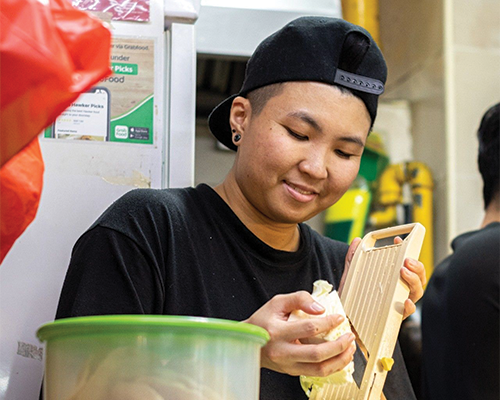 Hawkers of SG #42
Chop Chop Biryani & Meats run by Vonica and Jino.
We come as early as 730 in the morning, the first thing we need to prepare is the rice, since that's very crucial. That takes about 1-2 hours. We cook with basmati rice. We have to fry the spices to make it more fragrant before we add the water in, before finally adding the rice. What we serve is half yellow and half white rice, so we will stir fry everything. We have the braise the char siew for about 12 hours, and the same goes for the masala. Since space is rather constrained here, we will prepare today's ingredients for tomorrow, since we can't keep much either. So in the morning, we will always have a fresh batch.
Frankly speaking, we're from a very western background, so this is all very new for us. Back when I was working part time, for Jino and I observed how he cooked and prepared all sorts of food. So that's how I got into cooking. I didn't really have a passion for cooking at first, but through all the F&B part-time jobs I had, it became a serious interest. Of course, he's still a better cook than me.
Previously, I was from a marketing background in the F&B industry, so working here was very different. With regular office hours going from 9-5, we start as early as 7am and we call it a day at 3 pm. But sometimes, because of the braising of our ingredients, we can stay as late as 7-8 pm. We are only open from 11-2, but the hours we put in on the back end are a lot longer. But it's a lot more rewarding, especially when we have regular customers coming back telling us that they enjoyed the food.
That's really what keeps us going.
Chop Chop Biryani and Meats, #02-101 @ Amoy Street Food Centre